As a web developer, I know the power of the Internet. As a parent, I know its pitfalls.  Wearing both hats, I have published my ebook, "
100 Ways to Keep Your Children Safe Online: The Guide for Parenting in a Digital World
." The book has allowed me to share my expertise as an Internet consultant and as a father of two boys, a 6-year-old and a 4-year-old, to help other parents protect their children from nefarious computer users who may be using the Internet to harm or exploit children. My company
Read more
29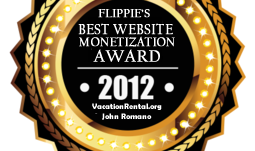 Hard work brings its own reward through self-satisfaction. So when your hard work is recognized by others, especially industry peers, accolades are just icing on the cake. That's how I felt upon learning that one of my websites --
www.VacationRental.org
-- won a first annual
Flippie Award
for best monetization. The award was presented by
Flippa.com
, the No. 1 marketplace for buying and selling websites. I am one of the most successful sellers on Flippa with more than $300,000 in sales during the last six months. My family, friends...
Read more
6