When Tom Hanks won the Academy Award as best actor for "Philadelphia" in 1994, he thanked his high school teacher, Mr. Farnsworth, without whom, the actor said, he would not be standing on the stage holding the Oscar that night.
"I wish my babies could have the same sort of teacher…" Hanks said in his acceptance speech.
Oprah Winfrey has also paid homage to her own favorite teacher, Mrs. Duncan, who appeared on the media mogul's afternoon talk show.
"One of the defining moments of my life came in fourth grade—the year I was a student in Mrs. Duncan's class at Wharton Elementary School in Nashville. For the first time, I wasn't afraid to be smart, and she often stayed after school to work with me. I thought I would one day become a fourth-grade teacher," Oprah has recalled.
Kudos to those two celebrities for giving credit where it is due; actually the pedagogues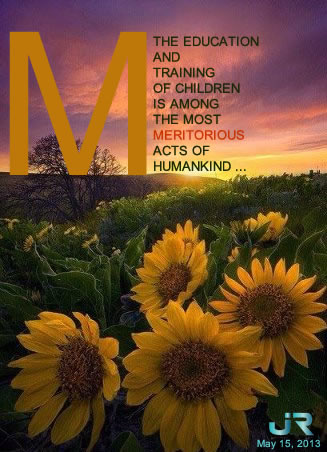 deserve as much praise as that which is heaped upon their famous students. Yet, most of the best teachers remain anonymous to the masses. Even some of the great minds and talents of our time—from musicians to secretaries of state—are extolled for other accomplishments, even though they were teachers at one time. I'm talking about people such as Madeleine Albright, Sting, Maya Angelou and Stephen King.
Try googling "famous teachers" and the search results will turn up as many unrenowned names—Miguel de Unamuni, Ralph Ellison, and Augusta Savage—as legendary ones such as Albert Einstein and Booker T. Washington.
That our greatest teachers linger in relative obscurity is shameful. They are the true unsung heroes of our society and, unfortunately, the noblest profession seems to have lost its distinction in modern times even as the challenges of being a teacher have intensified. The rudimentary three R's are still important, but teachers are responsible for so much more, molding young minds with tools far beyond textbooks and pencils.
"Teaching is a profession that lies at the heart of both the learning of children and young people and their social, cultural and economic development.  It is crucial to transmitting and implanting social values, such as democracy, equality, tolerance, cultural understanding and respect for each person's fundamental freedoms," it is stated in "Building the Future Through Quality Education," a policy paper adopted unanimously at the sixth Education International World Congress in 2011.
Very few of us are autodidactic; and, yet, teachers today are often the subject of scorn, as author Susan Straight wrote in an op-ed piece for the Los Angeles Times at about the same time she was publishing her book "Take One Candle Light a Room" about an orphaned young man whose life is changed by teachers.
"Teachers are blamed for bad test results, for disrespectful students, for failing schools. They are thought to be lazy, draining public coffers with their monthly salaries and pension benefits (although they actually contribute to their pensions like everyone else)," Straight wrote indignantly.
I have always revered the profession and especially admire those who choose to teach elementary school students. It is one of the most challenging and yet important professions for the development of a person.
When I look back, I think my elementary school years in Italy were the toughest for me as we stayed long hours at school and were then assigned so much homework that we used to fall asleep on the books. Most of the people in the class succeeded in whatever they did, however, because it instilled the concept of "working hard" in our heads.
I had an elementary school reunion last year after 30 years and most of the children in that class went in different directions, but all of them seemed to excel at whatever they did and had apparently good lives.
I attribute that to the teachers who guided us through those formative years. And just as Tom Hanks hoped his "babies" would receive the same kind of tutelage as he did under Mr. Farnsworth, I hope my sons will look back one day and remember their favorite teacher, or, hopefully, many of them, who will in no small measure be responsible for their success.